Our coatings are highly efficient, low loss and low scatter.  Most optical coatings manufactured at these wavelengths  produce stress.  Stress can cause the coating to craze or even deform the optic.  Spectrum Thin Films has developed a proprietary procedure using the latest equipment to produce these coatings.
Thickness as thin as .006″ and sizes as small as 1mm.
From prototypes to high volume.
A/R Anti-Reflection
Reflective
Beamsplitter
Filters
Fiber Optics Coatings
"Cold" Ambient Temperature Coatings
Development Runs
Short Wave Pass Filters
Transmission > 98% -0.1 db @ 1.310µ
Reflectance > 99.9% -30 db @ 1.550µ
Designed for given angle
High Isolation
Long Wave Pass Filters
Transmission > 98% -0.1 db @ 1.550µ
Reflectance > 99.9% -30 db @ 1.310µ
Designed for given angle
High Isolation
Dielectric Reflectors at Primary Wavelength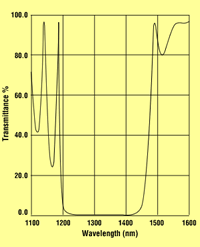 Reflectance > 99.9% -30 db @ .980, 1.310µ or 1.550µ low scatter and absorbtion
Designed for given angle
Band Pass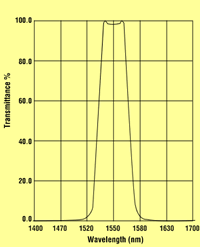 Transmission > 90%
Bandwidth 10 nm and up
Blockage out of Band > -30 db
Designed at given wavelength and angle
Custom filters available